As for the updated Syracuse Grades, Pat Narduzzi had a little fun with a grading qeustion during his presser on Monday, throwing out some fake grades when someone asked him how the guys graded out. He also went so far as to point out that everyone has their own grading system. Ostensibly with the goal of downplaying the grades of an outfit such as Pro Football Focus who likely relies on contract workers who may or may not be well-versed in the art of grading a football tape. Certainly the legion of well-trained grad assistants at any Power 5 Program would likely be more accurate graders. They also know exactly what a coach is looking for, but just for kicks and giggles, here is PFF's own description of how they grade tape.
I'll admit, it's a little complicated.
Source: https://www.pff.com/grades
THE GRADING SCALE
Each player is given a grade of -2 to +2 in 0.5 increments on a given play with 0 generally being the average or "expected" grade. There are a few exceptions as each position group has different rules, but those are the basics. The zero grade is important as most plays feature many players doing their job at a reasonable, or expected, level, so not every player on every play needs to earn a positive or a negative.
At one end of the scale you have a catastrophic game-ending interception or pick-six from a quarterback, and at the other a perfect deep bomb into a tight window in a critical game situation.

Each position has its own grading rubric so our analysts know how to put a grade on the various expectations for a quarterback on a 10-yard pass beyond the sticks or what the range of grades might look like for a frontside offensive tackle down blocking on a "power" play.
There is then an adjustment made to the "raw" grades to adjust for what the player is "expected" to earn given his situation on the field. For instance, a player's grade may be adjusted down slightly if he plays in a situation that is historically more favorable while a player in more unfavorable circumstances may get an adjustment the other way. We collect over 200 fields of data on each play, and that data helps to determine what the baseline, or expectation, is for each player on every play.
WHO IS DOING THE GRADING?
PFF employs over 600 full or part-time analysts, but less than 10% of analysts are trained to the level that they can grade plays. Only the top two to three percent of analysts are on the team of "senior analysts" in charge of finalizing each grade after review. Our graders have been training for months, and sometimes years, in order to learn, understand and show mastery of our process that includes our 300-page training manual and video playbook. We have analysts from all walks of life, including former players, coaches and scouts. We don't care if you played.
Each grade is reviewed at least once, and usually multiple times, using every camera angle available, including All-22 coaches' tape.
CONVERTING THE GRADES
The plus-minus grades are then converted to a 0-100 scale at the game and season level. This makes it easier to compare players across positions relative to their peers, though it doesn't account for positional value, i.e. which positions are most valuable when trying to predict wins.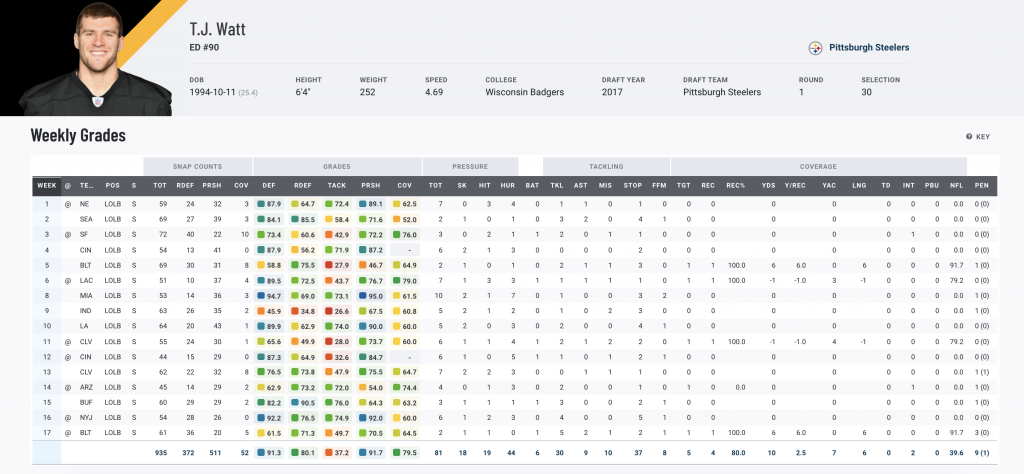 Season-level grades aren't simply an average of every game-grade a player compiles over a season, as the season grade credits the entire body of work. An 80.0 game grade is not close to one of the best games of all-time, but 16 games of 80.0 grades will equal an outstanding season of consistency and likely one of the better seasons in a given year. A simpler example is a three-touchdown game from a quarterback. We've seen many three-touchdown games but doing so in all 16 games would be one of the best seasons of all-time.
There is more, of course, but I don't want to bore you any more than you already have been bored. Lets see how my uneducatd eye compares to the experts.
PFF Key – I've adjusted this slightly based on how I see things stack up vs actual performance on the field.
90 – 100: A
80 – 90: B
70 – 80: C
60 – 70: D
0 – 60: F
Now, most of you guys are probably going to argue with this scale, and that is fine. On to the ratings vs Syracuse
QB – I gave Pickett a B. PFF rated him 65.7 overall, which is equates to a D. His passing was rated at 64.5.
RB – I gave the Running Backs a D+. PFF grades:
Carter (2 snaps): 71.1 – C
AJ Davis (12 snaps): 58.5 – F+ (does that even exist?)
Sibley (4 snaps): 66.0 – D
Receivers. I gave them a C. PFF said:
Addison: 68.6 – D+
Wayne: 65.5 – D
Shocky: 63.4 – D
DJ Turner: 60.4 – D-
OL – I gave them a C-. PFF rated just one guy at "C" level – Carter Warren. Great pass blocking grade though so Kudos to Warren on that. As a matter of fact, both starting tackles graded out surprisingly well for pass blocking. Lets hope they keep it up (and also hope that Houy stays healthy).
Tight Ends. I gave them an F. No disagreement from PFF…
As for the defense…
DL was solid. I gave them an A+. PFF was a bit more stringent. Note the two youngsters graded out best. Low snap count's though.
Linebackers… Again, PFF grading much tougher than I did. I gave them an A. Look at Sirvocea Dennis. Going to be tough to keep him off the field if he keeps playing well. Cam Bright could be on pace for an all-ACC season. Wendell Davis is a pleasant surprise.
Defensive Backs: No surprise that Ford is at the top of the list. What is a surprise is that Marquis Williams is #3. Pinnock I think got penalized for giving up that long TD.
Special teams: Not even going to waste my time posting it.
Hail to Pitt
Michaelangelo Monteleone