"Tight ends and backs have to be very sure handed, and their run after the catch has to be equally good, because you may throw the ball short to one of those guys, or intermediate and they still get you a first down."
If you ask any dyed-in-the wool Pittsburgher what was wrong with Pitt's offense last year, they will immediately go to one of three places: Offensive Line, Fullback or Tight End. In at least two of those places they'd be justified. (Sorry, but I'm just not convinced Whipple's west cost offense is going to make much use of a fullback – even if he can find a good one. We were spoiled by George Aston's talent and equally spoiled by Matt Canada's ability to make use of it, and then we were kind of spoiled by the fact that Shawn Watson didn't screw it up that badly.) Anyway, as you can tell by the opening quotation of this article, today I'm going to talk to you abut the Tight End position (or lack thereof) at Pitt. I'm sure you are all very excited.
First, the Positives. The Tight End position was targeted 62 times last season. Sixty two! Why that's just one less targets than the running backs got all season, and a full 13% of the targets all year. It's 45 more targets than the Tight Ends got in all of 2018! In fact you'd have to go all the way back to 2016 to find a year where the Tight Ends received more targets than last season. (Scott Orndoff and Jaymar Parrish combined for 63).
Sadly though, our two Senior Grad Transfer Tight Ends caught only 61% off those targets – the lowest catch % for any position (Want to guess the highest? It was the running backs, who caught 75% off the passes thrown their way…I guess RBU is kind of alive and well after all, in a weird West-Coast sort of way). And yet despite their poor ball skills, Griffin-Stewart and Gragg were the 5th and 6th most targeted players on the team. Perhaps Whipple was trying to send recruits a message, and that message was "Look, we DO throw to the Tight End, no matter what".
| | | | | |
| --- | --- | --- | --- | --- |
| Player | Targets | Receptions | Catch Percent | Drops |
| Nakia Griffin-Stewart | 32 | 19 | 59.4% | 7 |
| Will Gragg | 30 | 19 | 63.3% | 2 |
Somehow with only two drops, Will Gragg was nearly as bad a receiver as Nakia Griffin-Stewart, who totaled seven. Route running?
For comparison the average "Catch Percent" for the NCAA is 66.8% (min 20 targets). And the top eight receiving Tight Ends in the ACC all averaged north of 70% last season. Most averaged in the 80's. A far cry from Pitt's Tight End platoon.
So yes, we have a long way to go.
But we all knew that, and hope springs eternal.
This year we have a brand new Grad Transfer and He is from Florida where pass catching Tight Ends Grow on trees and second and third string players are good enough to make honorable mention all-ACC.
Enter Lucas Krull, who much like the hero in the 1983 Sci-Fi-meets-Robin-Hood fantasy film that shares his surname, has been transported to a strange and distant land, and against all odds will use his magical catching abilities to save the world from utter destruction (and eventually rule the galaxy).
Heck, he even kind of looks like the film's protagonist.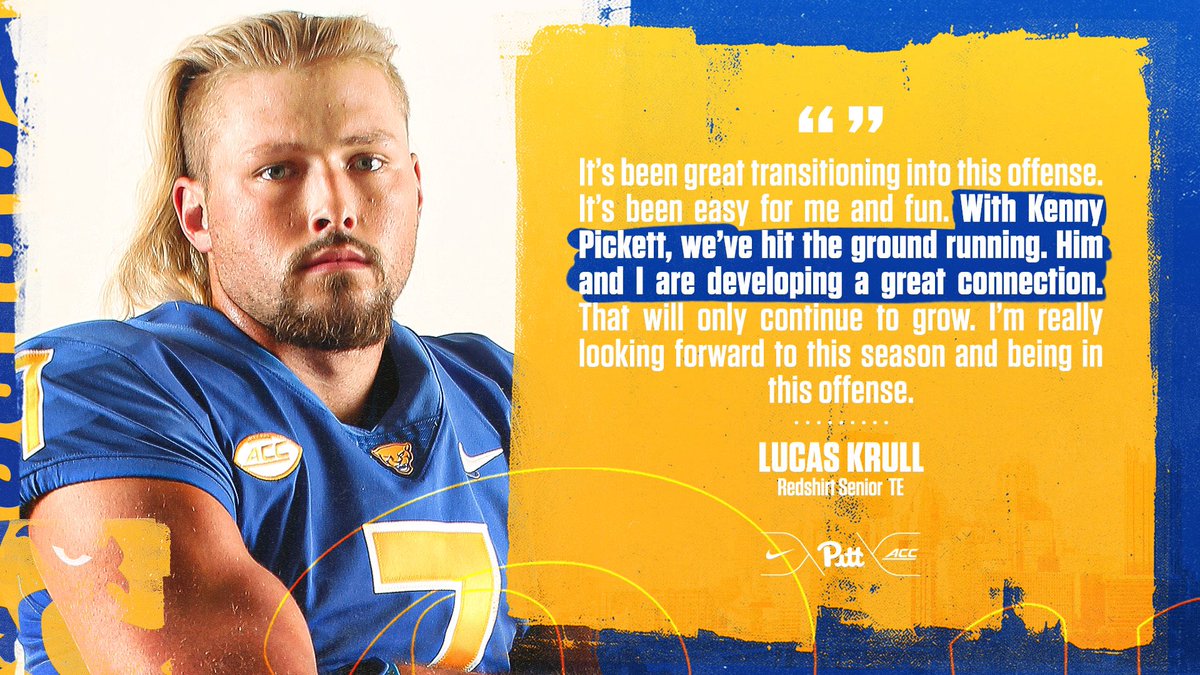 So yes…Lucas Krull. He sat behind all-world (and ironically-named) TE Kyle Pitts at Florida. Pitts merely collected 54 receptions on 80 targets, and five touchdown in his first full season, so you can see why Krull didn't get much playing time. (For the record Pitts notched a 67.5% catch rate, and just four drops out of those 80 balls. Griffin Stewart would have had 15 drops. Maybe 16. I'm not exaggerating here.) The thing is that Pitts started and became all conference in his true Sophomore year. Krull, for all his purported talent, languished on the bench and then didn't seize the job as a redshirt Junior. In his defense he was a two sport athlete and was likely distracted by playing baseball.
Anyway, the good news is that he was the second most targeted Tight End on Florida's roster last season. The bad news is that he only had six targets. He caught three of them (but he didn't drop any either). So yea, kind of not a lot to go on.
In a best-case scenario Krull is the Tight End version of ex-Florida linebacker Kylan Johnson, who came into Pitt last season, and usurped oft-ballyhooed but equally often out-of-position linebacker Chase Pine's Money Linebacker position. Johnson garnered honorable mention All-ACC honors en-route to signing as a free agent with the Miami Dolphins after a solid 2019 season at Pitt.
If Krull plays at the same level that Johnson did, then you'd expect Krull to get about 60 or 70 balls tossed his way, and you'd expect him to catch about 2/3 of them for about 11 yards a pop, and maybe 4 or 5 touchdowns. That would be a nice little stat line of lets say 66 targets, 44 receptions, 450-ish yards and 4-5 TD. Heck that might even break him into the ACC third-team (Second team if he was on UNC). Buttt…just to temper your expectations, that would also be the most productive Pitt tight-end since Scott Orndoff (35 rec, 579 yards, 15 TD in 2016), and so the odds are not exactly in Krull's favor.
But hey, the kool-aid's on the table so feel free to pour yourself a glass.
A more realistic scenario is that Krull is basically Griffin-Stewart without the drops. So like 40 targets, 25 rec, 280 yards, 2-3 TD. That seems more in line with something you'd get out of a grad transfer, and its the low-end of respectable production for a college tight end.
My personal take on Krull after watching his interview last week and reading between the lines, is that he's always been a high talent guy who hasn't quite been motivated to put in the work. I can't quantify that statement or back it up with insider information, but couple of quotes that he dropped just give me that feeling. (I'm paraphrasing here) "Well the quarantine was a blessing in disguise because I couldn't go anywhere so all I did was work on football" If you ask me, the subtext is that he would have rather gone out and done something, instead of working on football. He also said something about being locked down in Pittsburgh and not being able to enjoy the summer. Now maybe I'm just being a crotchety old man here, and I hope I am, but it sounded a lot to me like Lucas would be a lot more interested in chasing skirts on the Southside then putting in extra work on the playbook. Anyway, he's got every opportunity to prove me wrong. Plenty of time for skirt-chasing when the season's over.
Even if he doesn't prove me totally wrong, we better hope Krull doesn't get hurt, because after him the Tight End room is pretty dang thin. It contains: A JUCO transfer (Danny Moraga). A redshirt Freshman who's only played the position for one year (Ky Wright). A senior walk-on who last season "provided depth at linebacker" (Jake Zilinskas). Oh and a guy that was recruited as a defensive and that has flipped back and forth between positions twice (Kaymar Mimes). Yes Moraga could turn out to be serviceable (he was recruited by Fresno state but had issues and had to go JUCO for a year, so there is some talent there), but Wright and Mims are going to be raw no matter what, and Zilinskas is going to just be a tad bit overmatched if he's out there for every play. Yes, I am sure that they are all good guys who work hard, but you can't make up for four years of neglect and attrition with a couple JUCO's, Grad Transfers, position switches and walk on's. At least not with only one year to build it.
So yea, there you go folks. The Tight End position. It's likely going to be as bad as a low-budget early '80's sci-fi movie. I guess we can hope that Krull is more action hero than fantasy.
PS – In what might turn out to be either the best (or worst) part of this post, here is the entire Krull feature film uncut. Looks like it was pirated the old-fashioned way, with a video camera in a theater. Enjoy & Hail to Pitt.
Michaelangelo Monteleone