As I'm working through the position groups I came across the Pitt Defensive line hype video on Twitter last week, so I stashed it away for this article.  It's a pretty good video, mostly because we had a pretty good defensive line.
To fully appreciate the video though, you need to watch the below viral video of a TV reporter's reaction to a herd of Bison at Yellowstone Park.  Make sure your volume is up for the full comedic effect.
Okay you may now watch the Pitt version.
So yes, Defensive Line.  Bison herd.  Very appropriate.  They're all coming back too.  We all know that and we're all excited about it.  Of course the irony is that the season may well be cancelled…
But I don't want to dwell on that.  Instead during these uncertain times, we should dwell on how Pitt got here, and no offense to any players, it wasn't by recruiting the "best guys" out of high school (i.e. four and five star players).  At the risk of sounds like one of those "Pitt rah-rah cheerleader types", I'm going to tell you that Pitt's defensive line is a classic case of good scouting, combined with good scheme fit, combined with player development.  The 'Duzz is trying to implement this type of strategy across the entire team with varied degrees of success, but the D-line is definitely ahead of the curve.
So lets take a walk down memory lane and go back to when our current linemen were just raw recruits out of highs school, and look at where they are today.
First – the 2020 roster with heights and weights.  Take note of these.  You have to wonder if a sophomore or two will wash out?  That's pretty much the only negative thing I have to say about this.  Too much depth in the r-Sophomore class.  Too much depth!
Also notice that every single one of these players has redshirted.  That's how you develop your guys, people.
Also notice the number of sophomores and freshman.  There are only five juniors and seniors.  All five of them are contributors by the way.  And we'll focus on four of these five.  My apologies to Keyshon Camp, he's just been injured a little to often to warrant profiling, but I do hope he's able to play the full 2020 season.  If there is a full 2020 season…
On to the guys who have a little bit more history.
Rashad Weaver
He was expected to be Pitt's best defensive lineman last season.  Instead he tore his knee up in fall camp and sat out the entire season.  Expectations are high this year…yadda yadda yadda.  Here's the stats.
Weaver was rated as a lowly 5.4 on rivals.  He did have 25 offers though, with the top two being Penn State and Michigan.  He actually committed to Michigan, but then Jim Harbaugh apparently changed Weaver's offer to a PWO late in the recruiting cycle.  Weaver smartly decided to move on to greener pastures and Pitt was It.  The key here is that Weaver who is now listed at 270 has put on 25 lbs since enrolling, and he's developed each year he's been on the field.  Here's a little history and context on Weaver's breakup with Harbaugh at UM.  To Weaver's credit he handled it with class, thanking UM for the opportunity and giving some props to their fans.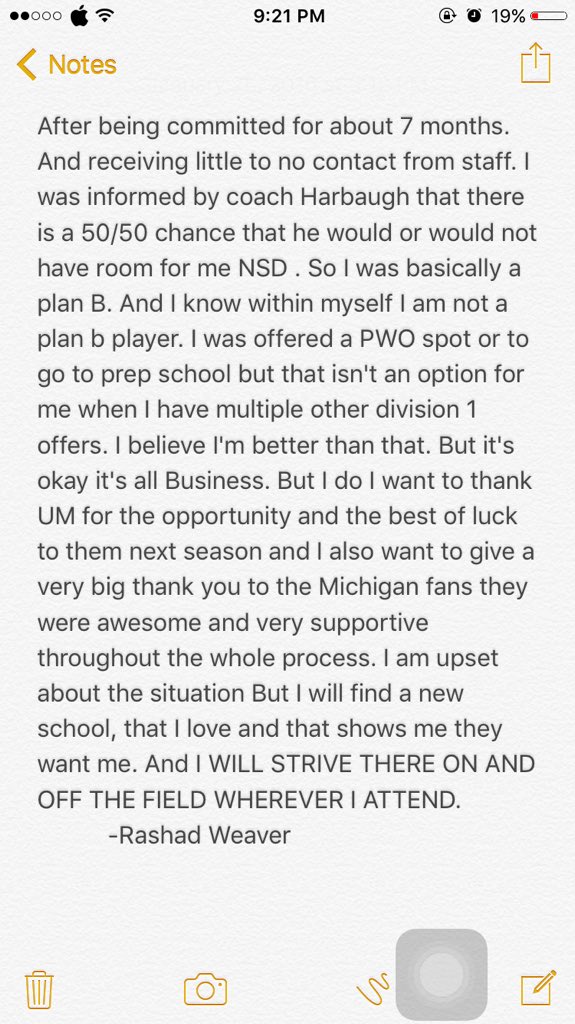 For the record, UM signed for DE's the year the bumped Weaver to PWO status.  Here they are:
And here is what they did on the field:
Ron Johnson – Did not register a stat as a Wolverine.  Transferred to Rutgers as a grad transfer prior to the 2019 season but "did not meet the academic requirements to enroll as a grad transfer" and did not play.
Carlo Kemp –  Did not redshirt.  Played in 12 games as a senior.  Registered 40 tackles, 2.0 sacks and 4.5 TFL.
Joshua Uche – Played his career at Linebacker (did not redshirt).  Had a good senior year in 2019 with 8.5 sacks and 11.5 TFL.  Registered seven sacks his Junior year.  Similar production as to what you'd have expected from weaver this past season.
Michael Dwumfour – Did not redshirt.  Was a senior in 2019.  Played in 10 games and registered 9 total tackles.  0.5 sacks.  1.5 TFL.
Well, I'm no Big-10 football coach, but it sure seems like Weaver has outplayed 75% of the recruits that landed full rides, in his redshirt sophomore season.  So again, Thank you John Harbaugh.  We do appreciate your lack of commitment to your recruits.  (On a more technical note, it looks like Harbaugh's DC favors a 3-4 scheme, while Bates and the 'Duzz run a 4-3, so scheme fit could have had a lot to do with why Michigan moved away from Weaver.  But again, on man's PWO is another man's All-Conference candidate and so it looks like it all worked out.)
Patrick Jones
Second, and probably my favorite, is Patrick Jones.  He's my favorite largely because he was a "skinny" 230 lb two-star out of Virginia who's developed into a 260 lb beast, and who sacked the QB 8.5 times and caused four forced fumbles last season.  Like Weaver, Jones has gotten better every year he's seen the field.  As an added bonus, Jones sports what I consider to be one of the best set of dreadlocks in the ACC.
From Pitt Football's bio (emphasis added by me):
2019: Earned status as one of the top defensive ends in the ACC…started all 13 games and compiled 43 tackles, 12 TFLs, 8.5 sacks, four forced fumbles and 18 QB hurries…led the Panthers in TFLs (tied), forced fumbles and hurries, while ranking second in sacks…paced the ACC and ranked sixth nationally with an average of 0.31 forced fumbles per contest…All-ACC (second team)…Honorable Mention All-American by Phil Steele and Pro Football Focus…four-time Pro Football Focus ACC Team of the Week honoree (Delaware, Duke, Miami and Georgia Tech)…named the ACC Defensive Lineman of the Week after he had six tackles, two sacks (18 yards in losses) and two forced fumbles at Duke…each of his sacks against the Blue Devils resulted in Pitt fumble recoveries, the first of which set up a short Pitt TD in the third quarter and the final one clinching the victory with 22 seconds left…also had two sacks and a forced fumble against Miami…had a career-high seven tackles with 1.5 TFLs and a sack assist against Boston College…had four tackles and 1.5 sacks against UCF.
Jaylen Twyman
While Jones may be my favorite.  Twyman is likely the fan favorite.  And why not?  Here is guy that enrolled in Pitt as an ahem slightly rotund 300 lb 6'2″ defensive tackle.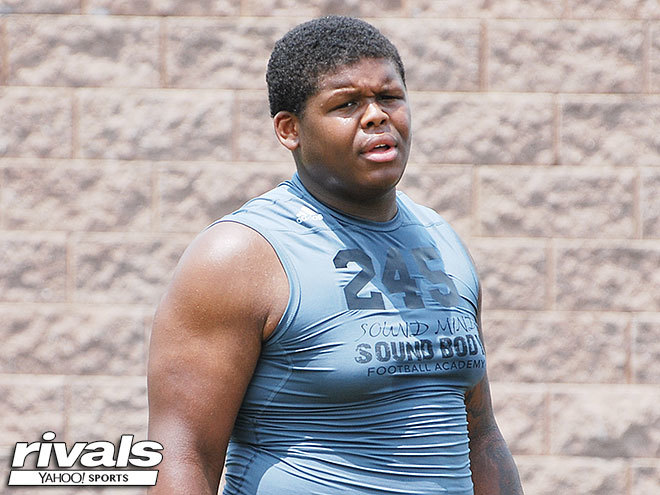 He has subsequently transformed himself into this:
and this:
and this: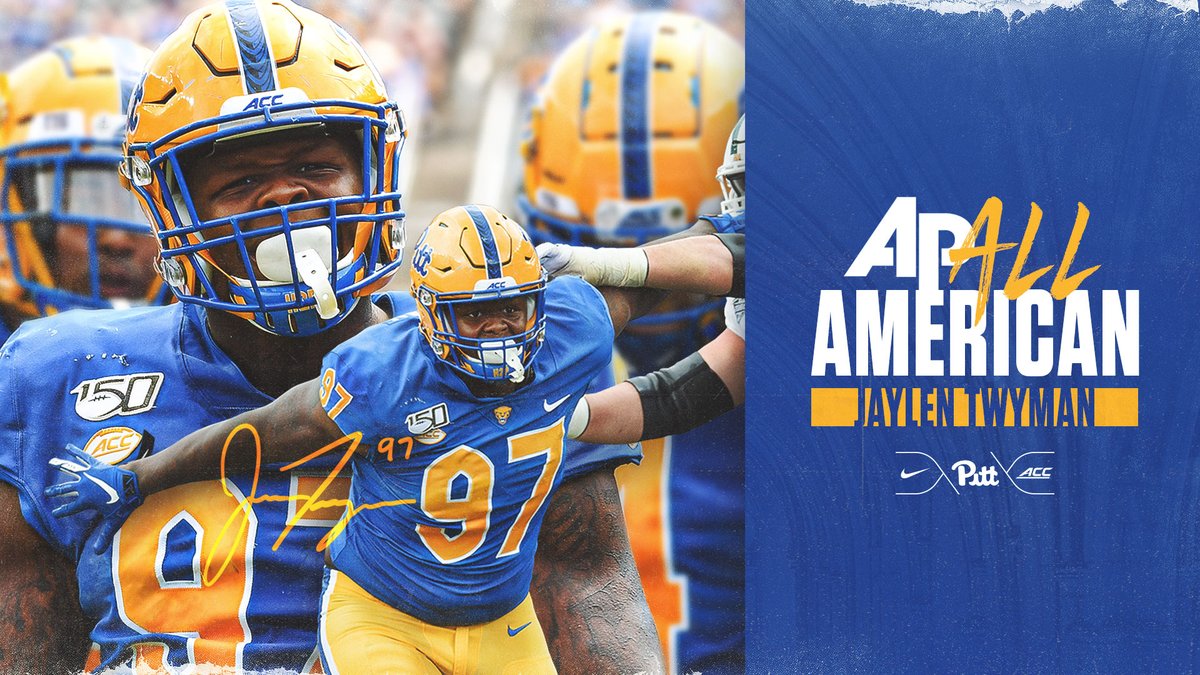 Twyman is down to a svelte  290, and so so basically he notched a sack for every pound he lost.  Can he get to 287 this year and tally 13?
2019: Enjoyed a highly productive—and highly decorated—sophomore campaign…a starter in all 13 games at defensive tackle, compiling 41 stops and a team-high 12 TFLs (tied) and 10.5 sacks…became the first interior defensive lineman to lead Pitt in sacks since Aaron Donald (11) in 2013…ranked 18th nationally with an average of 0.81 sacks per contest…named a second team All-American by no fewer than six different selectors, including Associated Press, Football Writers Association of America, Phil Steele, Sporting News, Walter Camp and The Athletic…first team All-ACC…honored as the Outland Trophy National Defensive Player of the Month for September…two-time Pro Football Focus ACC Team of the Week honoree (Delaware and Boston College)…honored as the ACC Defensive Lineman of Week for his performance against North Carolina, when he had 2.5 sacks…his biggest sack occurred in overtime when he smothered Sam Howell for a five-yard loss, pushing the Tar Heels into a fourth-and-16 that they could not convert…collected three sacks against Ohio, the most by a Pitt player since defensive end Ejuan Price had five vs. Louisville on Nov. 21, 2015…it also marked the highest sack total by a Pitt defensive tackle since Aaron Donald also had three vs. Utah on Oct. 15, 2011….had a career-high six tackles with 1.5 sacks at Penn State…also had six stops with a sack assist against Boston College.
Deslin Alexandre
Little known until last season, Alexandre stepped in for the injured Weaver and played pretty damn well.  5.5 sacks and 10.5 TFL is sold production in any league (just ask Jim Harbaugh).  He's another "skinny" guy (listed at 229 lbs when we was recruited) who put on weight at Pitt (he's now listed at 270) and turned into legitimate FBS defensive end.
2019: Started all 13 games at defensive end and compiled 38 tackles, 10.5 TFLs, 5.5 sacks and a fumble recovery…had a career-high six stops in three different contests (Virginia, UCF and the Quick Lane Bowl against Eastern Michigan)…named to the Pro Football Focus ACC Team of the Week for his performance against North Carolina…had five stops, including a career-high two TFLs, and a sack in the overtime win over the Tar Heels…had a career-high 1.5 sacks in the UCF victory…had key fumble recovery at Duke (forced by Patrick Jones II) that Pitt parlayed into a TD in the eventual 33-30 victory…named to the All-ACC Academic Football Team.
So yea a rah-rah puff piece by me, and Reed is probably rolling his eyes (if he's even reading).  Do these guys all have holes in their game that they can work on?  Absolutely.  But did they also earn every single good thing that was said about them above?  Yes sir, yes sir they did.
And I expect Coach Partridge will continue to make them earn it.
Hail to Pitt
Michaelangelo Monteleone