I just spent a good amount of time in yesterday's podcast talking about how much I enjoy Chris Peak's work over at Rivals.com and I sure do.  But I have to say in his Monday Podcast today he threw a knuckleball out to the fans today in his "logical" defense of these last four recruits Pitt has landed.  Particularly these last two Offensive Linemen who committed in the past few days.
To refresh your memory:
When discussing these four recruits Chris basically stated that regardless of their star ratings (given out by Rivals) and regardless of the lack of D1 or Power 5 offers these four player were recruits that were highly targeted by this coaching/recruiting staff.
Allow me to repeat that… these four players were highly targeted by the recruiting staff.
Now, in what I can only feel is rather convoluted logic (and Chris is usually very logical) when he states that because Pitt still has offers out to more highly rated recruits and ones with a lot more and better offers and are apparently "still in the hunt for these players… then the fact is that Narduzzi grabbed these four kids makes then automatically as high or higher targets than those still undecided.
I believe that is what he's saying.  He mentioned the logic of that around the 14:00 minute mark in his podcast and firmly believes what he's expounding on which is good for him to do.  I just wonder if any Pitt fans feel the same way I do after listening to the podcast.  I had to literally listen to it twice in a row to make sure I understood what he was trying to get across.  Either way it was a bit mind-boggling.
Now – let me set the stage a bit here.  Here is Pitt's official offer sheet for the 2019 recruiting class.  In it you'll see the offers we had out to the kids who played Offensive Tackle, Offensive Guard, Center, Wide Receiver and Defensive Back.
Let's look at the Offensive Lineman we just had commit first because they are some of the worse recruits I have seen Narduzzi take in four years.
2* Matthew Goncalves has offers from 5 wins and  7 loss Pittsburgh and 3-9 American Athletic Conference Connecticut along with five other non-FBS schools like Stoney Brook, Bryant and Villanova to name a few.  I say again; one P5 offer (us) and a horrid UCONN team.  Remember that Goncalves was unranked until his Pitt offer then he was awarded two stars by Rivals.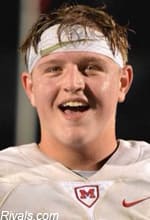 Nick Malone (pictured at left) is another OL who is currently "unranked", was offered and whose commitment was accepted by Pitt.  Let's take a look at his info: He has a total of three offers; 5-7 Pitt, Robert Morris and Eastern Kentucky.
Folks, we beat out Robert Morris for this recruit.  That would be the 2-9 Robert Morris team that is.  Eastern Kentucky was 4-7 on the year so they are a short step up from Bobby Mo U.
Really, are these are the players we are to believe were actually targeted over other 4* and 3* recruits by this coaching staff.  What message does that send to Pitt fans my friends. Well, I have an idea and it isn't very nice.
Oh, right – let's see who were these recruits competing against to come here.
Here is a chart derived from our offer list that shows what offers we had out by position to 4*, 3*, 2* and Unrated recruits and then how many are still undecided as of this writing:
So here we see that if Narduzzi has "targeted" these two OL in Gonsalves and Malone it is because the pool of better recruits is shrinking fast.  For instance we offered eight 4* offensive tackles and there is one left on the board (BTW they all went to much more successful programs).
Same with 3* offers but more still available there.  Then you get to the 2* and Unranked OTs and lo and behold we had offers out to six of them and…just landed two. Good Job Pat! He offered spots to two unranked Offensive Linemen and they accepted. The first two in the class mind you, and maybe the only two.
Sorry friends, but it is pretty darn clear to me that this staff looked at the dwindling pool of available higher rated recruits we previously offered and panicked as they were committing to other programs so then grabbed these two lower rated recruits with crap offers just to get two OLs into this class.
What is also interesting is that I looked at Pitt's offer list some time ago when it first was posted by Rivals and am sure these two recruits were not offered back then but just right before they committed.  Now, a point made by Chris is that the staff saw these kids in a Pitt Prospect Camp and watching them there sealed the deal (at least I think he said that earlier).
Well, here is the nasty truth about those Pitt Football  Summer Camps – anyone in the world can go there if they  pay the entrance fee which was I believe around $60.  So the talent level at these camps is pretty low all around.
…and the fact is that these two kids never even took official visits to Pitt. Apparently they were snatched up without those formalities. The truth is that neither of these two recruits took official visits to any schools and that makes one wonder why – and a possible answer is that the school has to pay travel, hotels, food, etc for the recruit and his parents and, apparently, either the D1 schools didn't want to do that or the kids themselves didn't want to do official visits.  Strange.
It's pretty much the same thing with the WR we just had commit – Jared Wayne. His offer sheet is one P5 school (us) then USF and garbage.   Oh, except for the Central Michigan Chippewas because after all, that is where our new Defensive Backs coach is from.
Here are the 4* WRs we offered and you can see only two left are undecided – the other three went to PSU, Alabama and Miami:
As far as the DB A.J. Woods goes more of the same.  We sent offers out to two 5* DBs and 12 4* DBs (16 total) and so far there are only six undecided. I look at this list and see the only possible kid with a possibility of committing is the 'Quip Marlon Devonshire and I'm not holding my breath on him.
Look, it is pretty damned apparent over these last three recruiting classes (so far) that Pitt just isn't a target destination for Blue-Chip recruits.  In the 2017 we had three 4s; in 2018 we had just one and we are striking out in this 2019 class.  Some fans can live with that and even revel in it as long as Pitt is getting the better 3 recruits with serious football offers.  But that ain't what is happening here.
I believe Pitt fans can figure things out on their own… but what Chris puts forth is the party line (sorry, but that is exactly what it sounds like) that the Pitt recruiters are actively seeking out and landing kids with low star ranking (or none) and who have, let's just say it, horrible offer sheets.  I said in my podcast yesterday that the mark of good recruiting is when you are landing recruits with offer from better and more winning programs than Pitt… that's what I want to see – better offers but the recruit chooses Pitt anyway.
But that hasn't been happening for some time here and if that is the case then our recruiting situation is akin to knowing you have to get kicked in the balls and the only option you have is to choose it will be a right foot or a left foot.
I really enjoy and endorse Chris Peak's work over at rivals and honestly think he's the best in the business when it comes to Pitt football and I mean it when i say a subscription over there is worth the cost… but this latest podcast startled and bothered me.
Either these kids are the best we can get or…they actually truly are what this staff wants on the roster, which in itself is a bad joke!
So Pitt fans, which foot will it be?