Here is a submittal from our reader and commenter Ajs32.  Another great slice of life piece and this, and the writing that all you others have contributed, is truly what separates the Pitt POV from any other sites. Bar none.
My Pitt story isn't all that dramatic, but it is ironic that I ended up loving the school I desperately did not want to attend.
My love affair with Pitt sports began in the early to mid 1990's when as a ten-year old, my father who was a Pitt engineering drop out, got me into following the basketball program.  I was a huge fan of Jason Maile, Jerry McCullough, Eric Mobley, Chad Varga, and Vonteego Cummings. 
Pitt basketball often lost more than it won in those days and I would get agitated when we would lose to Seton Hall and especially Syracuse.  I remember thinking as a fifth grader, "We will never beat Syracuse in basketball, never."  I also remember watching an NCAA Tournament with my father during this era and Cincinnati was doing great.  I asked, "Why can't Pitt win like them?"  My dad said, "Cincy is big time basketball, we just aren't."
Unfortunately, as time went on, my father began to lose interest in sports in favor of following politics (yuck) and completing home improvement projects, (double yuck) and I became obsessed with the NFL.
I was a huge Steelers fan growing up in the North Hills and I also cheered for the Buffalo Bills because Jim Kelly is the uncle of one of my friends.  Meeting Jim Kelly, getting autographs from him, and just being in his presence was an awesome thrill.  My love affair with the Steelers would quickly end though because in seventh grade, I saved up $60 which was no easy feat and I purchased a Kordell Stewart jersey. 
My father was less than thrilled with the purchase, not understanding that I would turn into a jersey and autograph junky.
As fate would have it, two months after buying his jersey, I saw Kordell Stewart leaving Lens Crafters at a nearly empty Ross Park Mall with a beautiful blonde on his arm.  My mother saw I was in awe and nudged me to go ask for his autograph.  As a shy chunky dork with no self-confidence I strolled up and asked him, "Mr. Stewart, may I have your autograph."  He stopped, looked at me strangely, turned and walked away, and I was crushed.  From that day forward I never again cheered for the Steelers but still follow the Bills and the Browns, and I turned more toward following college football.
In the late 90's, I continued following Pitt basketball and figured since I didn't like the Steelers, I would give Pitt football a chance.  As an 8th and 9th grader unable to drive to Pitt stadium and having few Pitt games on TV, it was tough team for me to follow.  What angered me the most was on KBL, our old Root Sports equivalent channel; they always showed the Penn State football games instead of Pitt's.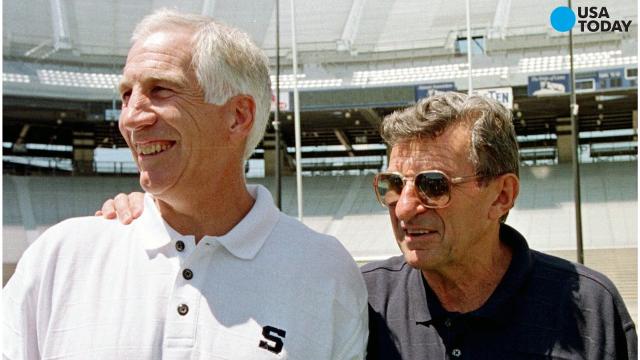 I hated PSU's uniforms; I thought Joe Paterno looked like a guy that would yell at me for walking on the edge of his lawn, and hell…since I'm from Pittsburgh State College meant nothing to me.  On most Saturdays I had to settle for watching PSU beat cupcakes like Bowling Green, Akron, Cincy, and Indiana State all the while hating the Lions while wondering how Pitt was doing in their game.
On rare occasions though I did get to see a Pitt game on TV.  I remember us losing to Notre Dame sixty something to nine during the tenure of Johnny Majors Part II and I watched the entire game.  I also watched Ohio State beat us 72-0 and I hung in for three-quarters.  I remember Pitt losing year after year to Syracuse when they had QB Troy Nunes and I began hating the Orange even more.
I recall seeing Pitt stars Matt Lytle, John Turman, Terry Murphy, Antonio Bryant, and Jake Hoffert when they were in our uniform.  My mother even bought me a beautiful mustard and blue Pitt sweater at TJ Maxx which I fell in love with.
 Even though it is twenty sizes too small I still have it in storage to give to my son when he is in grade school.  I even made my first and only trip to Pitt Stadium with my dad to see us against Rutgers that year… I was hooked.
As I was about to graduate from Pine-Richland High School things were bittersweet for me.  I finished in the top ten percent of my class; I had saved up a bunch of money by working at K-Mart for four years and I had some very good friends although I couldn't have paid a cute girl to take me on a date because I was as socially awkward and shy as one could be.  I was accepted to colleges all over the country, some of which like the University of Miami who had great football teams so that was where I wanted to go… then reality set in.
My father, who is a smart and practical man but often devoid of having fun, sat me down and said, "Miami is a private school and forty grand a year.  You are immature and cannot handle being away from home.  You will only get in trouble there or get homesick.  You are going to Pitt."  I was angry because I knew the old man was right on the money with his assessment and off to Pitt I went.
Even though I was a commuter student as an undergraduate and grad student (I worked for PJAX Trucking part-time while paying most of my tuition myself), Pitt completely changed my life.  I was academically challenged to the max.  I got out of the suburban bubble I grew up in and fell in love with the city of Pittsburgh.  Most of all, it was the people I met that made the difference;  professors, drinking buddies, people from different states with new ideas and experiences… and the ladies.
I don't know if it was the fact that I lost thirty pounds over the summer after high school and I got a new style of haircut, but I got asked out by a
smoking hot girl the very first time I sat in the Cathedral to study in Week One at Pitt.  After going through four years of high school with no confidence, and being 0 for 2 in asking out girls, that single act meant the world to me.  Pitt turned me into a confident, outgoing person who wasn't afraid to go after what he wanted whether it be a job or a girl.
I agree 100% with the great Tony Dorsett when he said in a public service ad for the university – "Pitt turned me into a man."
So I continued my education and graduated from Pitt. I've also beat cancer and dealt with countless other challenges which have come my way and no matter what I've never stopped loving the Pitt basketball and football programs… and I will never forget how the University of Pittsburgh changed my life for the better.