(I'll be doing a Sunday evening podcast this week and will have it up Monday Morning.)
OK Ladies and Gentlemen, we will be having our now-annual Pitt POV Golf Outing on June 9th. 2018.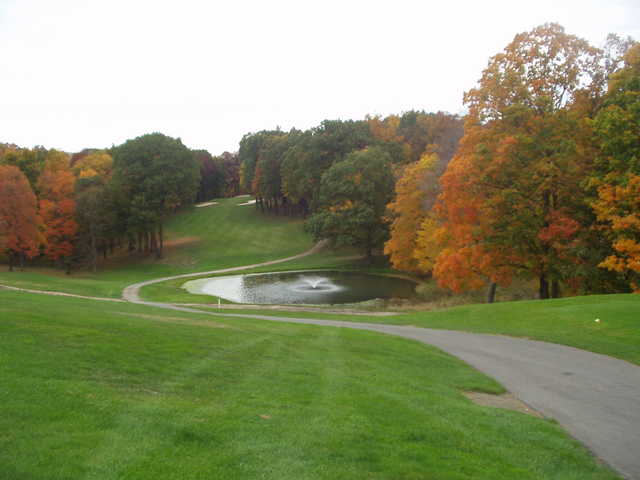 We need to to sign up now…
Here is the important info:
Location: We'll play at Champion Lakes Golf Course in Western PA near Latrobe. There are 15 hotels located within 17 miles of the course.
Date: Saturday, June 9th
Time: 1st tee time is 11:00 am.
Format:
The POV tournament will involve teams of 2, 3, or 4 golfers (preferably 4). In a Scramble tournament each team member tees off on every hole. After the initial tee shots, the team selects the best shot out of their teammates and each hits from that spot (within one club length, no closer to the hole). This continues throughout the rest of the shots, including putting.
NOTE: One drive from each player must be used on the front 9 and also on the back 9 (minimum total of 2 drives used per player).
The lowest cumulative score will be the winning team.
Cost: $89 (includes golf, a cart and a POVers sit down dinner after the round is completed)
Dinner only: $26
Golf only: $63
So you can see there are options galore.  My suggestion is that all who want to attend, call Rick at 717-951-9805 so you can pay by May 19th. Rick will be on vacation from 5/21 to 5/29 so please get with him as soon as possible…
2017 WINNERS OF THE FRANKCAN CUP:
Greg McDonald
John Pruszynski
Roy Marshall
Fran Lokar (lastrow)
Remember  friends – you don't have to actually play golf to be there and to have fun. I'll not be golfing and we have a bunch of POV friends who are paying the $26 to eat, drink and hang out talking Pitt football.
At the very least $26 is a small fee to be able to sit around and insult the guys who haven't shown up and have dinner!  And our female POVers are more than welcome also…Annie, are your ears burning?
Below are the participants that we have heard from so far that will be golfing on June 9th at Champion Lakes Golf Course:
MajorMajors
Lastrowofsection4 (winning team from 2017 will not be entirely present to defend the title)
JoeKnew (plus 3 friends)
GC
missingWLAT
Matt from Louisville
UPitt
Erie Express (plus 1 or 2 friends)
Total = 12 or 13 golfers so far
Here are some attendees for the POV Roving Peanut Gallery:  Reed. Ike and Dan72…. we need more…
And we have a few POVers who send their regrets but will definitely not able to come due to scheduling conflicts:  BigB.,  JoeL, and Richman (who is busy planning the future of Pitt athletics with our AD I'm sure).
Erie Express (Rick) has told the golf course we'd have around 20 golfers, based on 2017 participation.  If only 12 actually committ then he needs to let the course know early so they can fill those time slots we POVers won't fill (as strictly a financial courtesy to the club).
Folks – last year was so much fun. It was just a real blast meeting everyone and putting faces (and personalities) to the names we all hear from (and talk about) on here.  I truly urge everyone to try to carve out some time to at least meet for the dinner after the golfing is finished.  Don't miss a chance to have a fine day with old and new friends.
As always, I'll throw the credit card up on the bar and buy the first few rounds – especially for us POVers who won't be out swing golf clubs.
It is this Golf Outing, in addition to Fran's pre- and post-game POV tailgates and the POV bar crawls we have had before the bowl games that make this blog so unique and so very special.
I honestly can't think of one other Pitt football media outlet that does what we do one here with the extra curricular fellowship…not The Pitt Blather, not Cardiac Hill or The Panthers Prey – not even Rivals.com or any other recruiting site.
No one does a Pitt football community like the POV readers and commenters do. It is a unique thing we have.
You'll have noticed that I haven't asked for donations this year and I'm not going to – so I urge you to take some of that money that you have so graciously offer to me in the past and instead attend this get-together.  It will be the best bang for the money you can get – my word on that!
Also, if money is a issue for anybody at all please send me an email as I have set aside some of your 2017 POV donations just for things like this.  Please do just ask…
OK – our POC for the Golf Outing is:
Rick Caldwell (Erie Express)
rcaldwell@whiteoakdisplay.com
717-951-9805
Rick will be on vacation from 5/21 to 5/29 so please get with him as soon as possible please and let's make this June 9th another great POV Day!!