Look everyone, when times are tough like they are now for the Pitt Panthers football team after Saturday's horrendous loss sometimes the best thing for fans to do is just take a step back and try to look at things with a little bit of humor.
I suggest we do that today so I'm going to post up a few things that I've seen this morning that actually made me laugh out loud. In your comments let's try to keep this light and find some things that you can find humorous about Saturday's game or about the football program in general at this point in the year.
The first I can think of is the concept of firing Pat Narduzzi. We know that's not going to happen because, we know Pitt is not going to pull the trigger after eight win seasons.  At the very least we know Pitt is not going to swallow the remainder of his multi million-dollar contract and pay him that money anyway if he's not working here.
HCPN is having a bit of a rough time right now but this isn't anything that we didn't expect and I'm not just talking about the two losses to Penn State and Oklahoma State University. I'm talking about the fact that we discussed over the offseason in detail how many problems this team was going to have when they put those players on the field against YSU in the opener so let's not pretend that we didn't know that we have major issues this season.
Now the reason for those issues we can debate about but the bottom line is we are not a talented  football team and along with that we are an inexperienced football team and combining those two things is killing our chances of beating decent football teams.  We knew it coming in… even the posters who were overly optimistic knew in the back of their minds that we had real problems on this team.
So, let's sit back for a moment and try to enjoy something about the day and find some things to smile about while we get OSU out of our system…
Here is a great one – but the best part is the comment afterward – "I'd rather have BOGO open field tackles".
In the sad but true department The Washing Post takes their attention away from national politics to report this:
When you're down 35 at the half… https://t.co/da6DXg9ToC—
ESPN CollegeFootball (@ESPNCFB) September 16, 2017
We know that UPitt has real pull with the Pitt athletic Dept because indeed they will be Fanta drinks.  Pitt stocked up on them because, unfortunately, this will become a new start of the 3rd quarter tradition replacing Sweet Caroline.
This tweet also is great – about Pitt fans trying to decide what to do with the above offer…
In a complete "This can't be true, can it?" moment the PGH media got Pat Narduzzi to actually say this:
Attendance at Heinz Field was under 41,000 for the past five games stretching to last season, but Pitt coach Pat Narduzzi said he can't worry about it.
"I'm worried about the fundamentals (of the game). I can't worry about all that. You can go talk to someone else," he said, alluding to the fact it might be a question more appropriate for athletic director Heather Lyke.
"I'm worried about putting the best product I can on the field. That's all I can worry about.  "There's not enough time for me to worry about what that looks like. I don't even know. I don't even see it.  You know, I don't even hear it."
FANS !?! WE DON'T NEED NO STINKING FANS…!! 
Of course, this goes hand in hand with Narduzzi's attitude toward the media, fans and, in a completely ironic turn, the ticket buyers and donors who actually have paid his salary since he was hired.  It started with the closed practices – and yes, it really had sent a message to the media and fans when he did that, and continues onto today.
I wish you all could sit in a media interview session with him sometime – it is not a pleasant thing. Before anyone comes back with 'his sole job is to wins games' that just isn't true, especially at Pitt when it takes a village to get seats in the stadium. I'll give him a break on this because I'm sure he wants to put the whole OSU debacle in his rear view mirror ASAP.
In Google searching for something to write I came across this: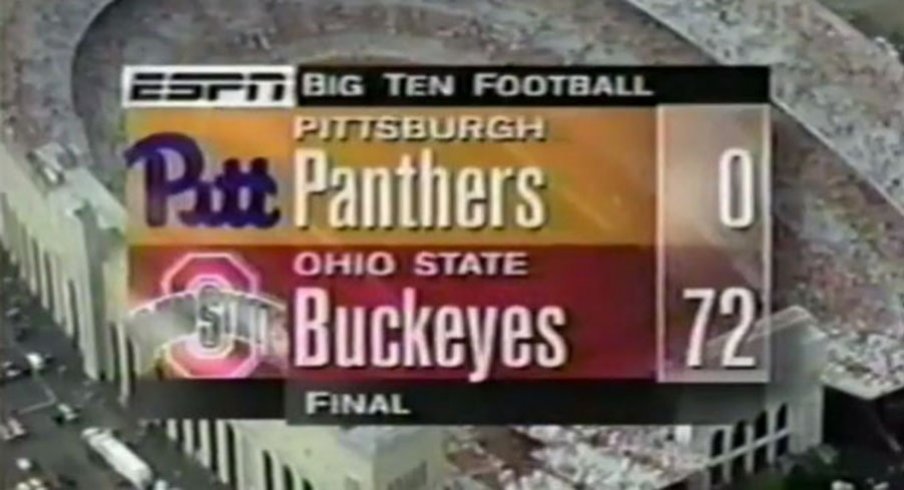 But what is great whit that is this bit from the poster:
Somehow, it was even worse than the scoreline indicates. If you don't believe me, here's Pitt's coach after the shellacking:
"Football is football. You're out there for 60 minutes and that was a long endurance today. They made an effort to keep it under 70 points and we wouldn't let them do it. I'm not being sarcastic, that's a fact."
Looking at the box score of that game I realized the 'other' OSU put up 52 points against us in the 1st half – beating what I thought was an untoppable 49 points this OSU did to us on Saturday.
Jerry DiPaola gets heat from HCPN on a regular basis, mainly because of all the mainstream beat writers Jerry comes closer to telling it like it is than all the others. Here is a piece by him this morning:
Narduzzi wasn't shy about placing blame for the downward spiral on anyone who recently walked through the doors at Pitt's practice facility, including himself.
"This is a young football team that has not paid attention to details like they need to," he said in as pointed a criticism of his players as he has made in three years. "There's always blame to put on the coaches, as I said Saturday, of things you could have done better: 'What if you did this?' "
Back to the players, he said, "Guys just panic with their technique. That's the one thing we try to teach our guys to fall back to is our fundamentals.  "At times we don't do that. You go rogue a little bit."
He also wasn't afraid to talk about repeated missed tackles against elusive Oklahoma State athletes and how the situation must get fixed in time to stifle Georgia Tech's option offense.
"You have to read your keys," he said. "Even some guys who aren't so young didn't read their keys. You wonder where it came from. What are you doing? What are you being coached to do?
"I tell our coaches, 'Hey, what you see is what you coach,' so obviously, it's not sinking in. How do we get it to sink in? Do we need a sledgehammer? What do we do?
Good question coach… Maybe simplify your defense and getting rid of the DC. That would probably help a great bit. At the very least it would show people you hold your staff accountable if they don't get the job done… over a full 2.25 seasons of play.
This isn't a charity gig – find someone who can either execute what you want or look in the mirror and admit that your own take on defensive strategy is absolutely not working against offensive minded ACC teams.  Selling out to stop the run is OK sometimes if that is what is needed- but you seem to have that tattooed on your ass.   You seem to think it is OK to make teams with good QBs and good WRs one-dimensional – but in the exact wrong way.  You allow them freedom of passing while gloating that you stopped a running game.
Well, when you are not looking at the fans or the seats in the stadium you really should take a second and do look at the scoreboard – and see all the points teams are racking up against us through the air.
Let's see some things you all have found that describes what we saw and felt on Saturday…