(Note: Thanks so much for the great launch day yesterday… appreciate it!!)
For a late Christmas present last year we Pitt fans received a new head coach for the football program.  Pat Narduzzi was hired on Dec 26th 2014 and hit the ground running… and we Pitt fans seem to have been running right alongside him for the last 18 months.
  I stated many time in previous articles that I was adopting a wait and see attitude toward Narduzzi because  I'm not one to get caught up in any sort of hype that surrounds things.  I think the movie "Heaven's Gate" did that for me at a young age when I was excited about see the so-called blockbuster then left the theater after about 30 minutes.
So through the last days of the 2016 recruiting class push, Narduzzi's "1st" even though the majority of the kids had been committed for some while, and then during spring practices, his offseason Magical Mystery Tour, fall camp and then into the '16 season I sat back and appraised the hire.
Regardless of the eight games won I looked and thought to myself that the mark of a good HC isn't so much how many games they win right off the bat but what kind of quality is he infusing into the football program itself.
I think I have the answer to that and wonder what Pitt fans feel about it also.
So – Let's look at what I consider the main aspects of a head coach's mission and discuss Narduzzi's report card so far.  Here is an interesting look at what a FBS school's job description for a football HC looks like:
The following list provides examples of the most typical duties for positions in this job class. Individual positions may not include all of the examples listed, nor does the list include all work that may be assigned to positions in this job class.
Direct assigned Assistant Coaches and Graduate Students in the overall planning and execution of the intercollegiate football program…etc.
I've taken the liberty to break this list up into three main sections that I personally feel are the HC's main duties overall…
1. Be a Strong Leader of Student/Athletes
Recruit quality prospective student-athletes and ensure timely submission of their academic records for admissions.
Monitor academic progress and status of team members, implementing action plans
Monitor and maintain the discipline and conduct of student athletes to support the image and reputation of the athletics program.
2. Control of the quality of the student/athlete's play on the field
Plan coaching and practice sessions in accordance with NCAA and Conference regulations.
Coach team members individually and in groups, and demonstrate game techniques.
Develop and implement game strategy and position assignments.
Oversee the strength and conditioning programs for student athletes.
3. Represent the University
Manage all operational, fiscal, and administrative activities for the specific sports
Promote the athletic program and specific sport through community events, public speaking, fundraising, and marketing.
Ensure adherence to all Association, Conference, and University rules by athletes and supporting staff
Huh – all that and the words "win games" is nowhere to be found.
That phrase isn't left out because winning isn't important; it sure is.  That phrase was left out because a University's job is not to produce winning football teams but to provide the resources that results in winning football teams.  By resources I mean Personnel (AD, HC and their staffs), Financial (scholarships and fundraising) and Logistical (stadiums, practice facilities, training tables, tutoring and study rooms, etc…).
I think that to accurately measure what Pat Narduzzi has accomplished in his first year and a half we have to look to see if the university has provided him with the means necessary to meet the ends -as listed above – and in producing a winning football program.
OK – lets dive in and see what Pat Narduzzi has shown us so far.
Be a Strong Leader of Student/Athletes
First off – is he a strong leader of Pitt's football student/athletes?  If we look at some things that have transpired inside the program since his hire we see that the disciplinary problems Pitt has had way too many of over the past six years has greatly diminished.  I posted some info on The Pitt Blather some time ago that showed in the years between 2006-2015 Pitt had 28 players disciplined for serious criminal or school team rules violations.
Since Narduzzi has been hired?  Two players – DE Rori Blair and WR Tyler Boyd went afoul of the law.  Both were recruited before Narduzzi landed at Pitt and both player's situation and discipline was handled well by the head coach.  Personally I might have levied more suspension time on the young men but that's me.
All that sends a very loud and clear message to me that Narduzzi is doing a good job in the 'Personnel' area because the important thing  isn't 'who recruited who' that got in trouble, it is the fact that Narduzzi had a full complement of 105 players on the roster from the time of his hire and only two disciplinary issues arose.  His influence on the other 103 players is just as important, more actually, as how he handle Boyd and Blair.
I have a draft article I'll post before fall camp starts that goes in detail about Pitt's academic progress.  While it is too soon for NCAA reports on Pitt's 2015 Academic Progress Rate (APR) and Graduation Success Rate (GSR), we have been steadily climbing since 2008 and I see no reasons why it won't continue.  That is a very good thing for the program overall and helps in recruiting also.
That is if the new Pitt Chancellor and Athletic Director keep the more stringent recruiting standards in place that went into effect after 2010.  let's hope they did because there is nothing better than looking at your school football team and seeing it excel both on and off the field.
Control of the quality of the student/athlete's play on the field
As stated above Narduzzi's been able to attract some quality recruits into the fold in his short time as the coach.  But the key to success in recruiting isn't the first class the HC lands, in this case his 2015 recruits, those kids are true freshmen who almost always sit on the bench with a redshirt or play only sparingly on special teams and such.
We do have the exceptions to the rule of course, some kids are just too good, or are in a position of such dire need, that they have to be thrown directly into competition.  Narduzzi put true FR DB Jordan Whitehead ('just too good' this one) in the fray right at the start and was well rewarded by the kid's sterling play.  But for the most part those freshman are biding their time, learning and growing.
It is in the 2nd year of that recruiting class where the team really starts to benefit from the new player's talents – talents by the way that have had one full year of D1 level quality staff and position coaching to be turned it position specific skills.
Going into 2016 we have some talented and young players ready to contribute; RB Darrin Hall played in spot duty and had some nice plays , WR/Slot Quadree Henderson (led Pitt with 504 kickoff return yards on 18 attempts (28.0 avg.) and LBs Saleem Brightwell and LB Anthony McKee are four youngsters who in my mind will get in early and often.  None maybe usurp any starters at their positions but they'll play and produce.
I think if Narduzzi can get five solid producers from that class, kids who have been on the roster only one year, then he's doing pretty well in that regard.  Maybe we'll get more than five – we'll certainly see more than five players from the 2015 class on the field, but I'm pretty sure that there won't be a huge influx of new starters from that class come September.
One of the strategic moves Narduzzi made as a first time HC stands out in strong relief.  The decision to sit down a returning starting QB and go with a transfer player who had limited playing time with rather poor results at a different school was a pretty ballsy move.
Pitt fans can read anything they want into that QB change – that Peterman was Chaney's 'boy' or whatever  – but the truth is that Pat Narduzzi wasn't about to let any staff coordinator make a decision on that level of importance by himself.  Narduzzi didn't just sign off on it – he understood the whys and wherefores behind the move, agreed with it and it turned out pretty well.
But a question in this issue still remains; did Pat Narduzzi's influence as the HC make any existing players on the roster play above what we all though the player's capabilities were?  I suppose we could point to rsFR RB Qadree Ollison and say so.  But the fact is that he hasn't played for Pitt already and then made a big jump in production.
Hey, no one is complaining about his 1,121 yards and his 5.3 yards per carry average – that was needed and welcomed and let's see it again this season!
How about anyone else?  How about Galambos and Caprara?  Was there an appreciable jump with their play due to the new HC and DC?
Tackles 

DEFENSIVE LEADERS 
GP 
Solo 
Ast 
Total 
TFL-Yds /Sacks
9
Jordan Whitehead
13
74
35
109
 6.0
– 17
47
Matt Galambos
13
51
37
88
 10.0/5.0
– 53
14
Avonte Maddox
13
52
23
75
 1.0
– 5
3
Nicholas Grigsby
13
45
21
66
 9.5
– 42
30
Mike Caprara
13
33
16
49
 10.5/5.0
– 40
It is hard to say with Caprara because he split time with other LBs but I think definitely so with Galambos.  His tackles went from 72 – 88 (+16); tackles for loss (TFLs) more than doubled from 4.5 to 10 (+5.5) and he went from no sacks at all to 5.0 (+5).
That says something about his being taught to be in the right place at the right time and to finish the plays off.  But perhaps the key indicator for Galambos was that he wasn't the butt of the Pitt fan's jokes last season.
Even setting aside the fact that we won two more game in '15 than we did in '14 I think we all can agree that we saw better football being played all around in Narduzzi's first year than in Chryst's last. Adding into the equation that we lost the #5 rusher in the country in James Conner and last season's productivity overall was pretty damn good.
3. Represent the University
How did Narduzzi do here?  Well, we saw a ton of bells and whistles from him and E.J. Borghetti's media department crew starting from Narduzzi's press conference onward.  Pitt instituted the "Pat Signal"  when he landed a recruit – which is inventive and puts some fun back into the rather boring Chryst era.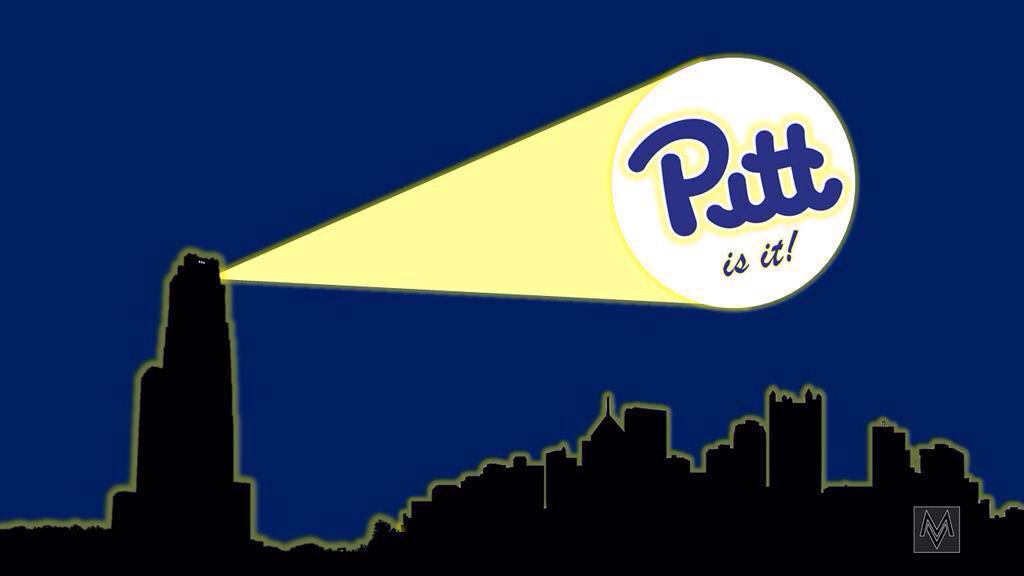 …and we saw the Pitt twitter-verse explode in describing and detailing everything under the sun;  "Hey, Pitt Coach Browmwell is not constipated today! HTP!!"   I can't get into that medium but the younger fans and students love it… and to Pitt the important thing is that in doing this now thousands of fans are checking the Internets many times per day for the least tidbit of Pitt football news.
Suffice to say there has been an infusion of energy, and in turn, excitement from this hire and that was methodically cultivated by Narduzzi and the media department.  He did a "Pat Narduzzi on the Prowl" barnstorming where he went out of town to visit various Pitt Alumni chapters.  I attended the Washington, DC one and came away somewhat impressed (btw – an open bar might be a good thing next time E.J.)
Watching that exhibition I thought to myself that if he's as good one-on-one with the bigger football donors as he is in a crowd of mortal alumni then we'll have an on-campus stadium before he leaves… JUST KIDDING!  We won't have that for a very, very long time – but he could sell the idea if needed….maybe.
"Representing the University" is something that I feel very strongly about and I wonder if my thoughts on it differ from most fans.  To me Narduzzi's actions in private, when he is making those big and small choices that have little to do with the more visible aspects of college football, are what is important.  Think back to his decision to suspend the two Pitt players last summer.  He could have taken the easy way out as some other Pitt HCs have done and used depth chart justice to keep one or both of them on the field… but he rose above that to do the right thing.
He's no pushover, not that anyone would think that if they knew any of his background. His firm hand with the players who let others in the clubhouse know they weren't happy with the way they were being handle at Pitt shows us that he won't brook any dissent that might divide the roster.
Chris James found that out and took off.   Chad Voytik had the door held open for him once he stated talking about his options of transfer (before his thinking became public) because he lost the starting job.  Narduzzi hasn't hesitated to perhaps hurt a player's feelings if a warranted two-deep move is to be made – he'll play underclassman and transfers before guys already in the queue if it will help the team.
I don't think we'll ever see Narduzzi adopt Wannstedt's publicly stated policy of "You stay, you play" that Wannstedt  had while here.  We fans used to joke that some of DW's recruits held union cards because he wouldn't sit anyone down for newer and better talent (with some exceptions like LeSean McCoy).
This adds up to a coach who understands who his employer is and honors that relationship in both word and deed. This is a breath of fresh air after the way Wannstedt closed out his time here and then Todd Graham crapped in the aisles of Heinz Chapel on his way out the door.  You don't get the impression the Narduzzi is any sort of a toady or a yes-man, but at the same time there is a real feeling that he cares about the University of Pittsburgh in all its many facets.
All this success on and off the field added has up to Pitt extending Narduzzi's contract past the original five year term (2015-2019) for two years until 2021.  That is so that any recruits he is wooing over the next two years can be honestly told that Narduzzi is under contract to be their HC for their time at Pitt.
Now, whether he will be the HC over that time period is a different story, I have different ideas about that and will address in a later article.
Narduzzi's final report card?
I say he meets and exceeds all needed criteria for the head coaching position at Pitt. He is a genuine guy who seems to be having as much fun, and success, working at Pitt as we are watching him work at Pitt. I think the hire is a good one with all my earlier 'show-me' punch list items having been checked.   I'm very much looking forward to seeing how his second year unfolds.
Again, my personal focus will be more directed toward the on the off-the-field areas and the peripheral issue rather than whether or not Pitt wins another eight games (don't hold your breath but anything can happen, right?)
So far it looks like sunny weather ahead for our program and its fans…so  let's keep it that way shall we Pat?
P/S: Here is an interesting job opening at Pitt…
Save